With the release of 'Hard Times', I found myself remembering my love of Paramore this week. I understand why people don't like the song and I can't say I had it on repeat but I will always love Hayley Williams' cute wardrobe. So! Here's five things I've found on sale this week that you can get to dress like the Queen of vocals. (P.S #notspons. )
Slogan Hooded Windbreaker Jacket – Topshop, £40.00 
Much like the scene kid tradition that Hayley has always rocked, she loves wearing bright colours. This bright yellow jacket may be a bit pricey but worth it for the standout style and rainy spring we have ahead of us.
2. Satin Ruffle Shirt Dress – Topshop, £15.00
A bargain at £15, if you ask me. Especially for Topshop. This shirt with its high collar is definitely something I can see Hayley wearing with some printed tights and Doc Martins.
3. Mixed Emotions Ringer Tee – Forever 21, £7.70.
Hayley has always loved her graphic tees and this would be perfect with a choker (as seen worn by the model) and some distressed denim shorts.
4. Happy Face Graphic Tee – Forever 21, £10.50
This is a little bit more pricey for Forever 21, but it's more like a jumper than a tee. Damn, Hayley. Back at it again with the graphic tees. I can see this paired with a pinafore dress (as worn by the model) but a simple black dress over the top would compliment this nicely.
5. Adelynn Ruffle Detail Skirt – boohoo.com, £4.00
Our cheapest and cutest item on this list. For the price, I can't believe this hasn't been snatched up already but it's the perfect Hayley skirt. It could especially work with one of our tees above or like the model, with a bright sweatshirt.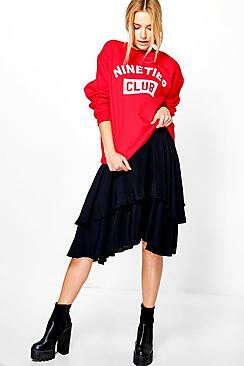 So, there you have it. Do you agree with my list? What did you think of Hard Times? And, would you like me to continue this as a weekly series with other celebrities/characters from TV shows/films?
Comment below and let me know.
Morgie out.