Hey guys! As we are nearing the end of HBO's TV series, I find myself reflecting back on when I first embarked on watching the show.
I don't want to be a hipster, but when I first started watching it, you had to do that torrent-thing where you had to wait at least 24 hours to download an episode of something, leaving your laptop on all night. I remember going to school (that's how long ago it was!) and being excited about coming back to watch it. I was intrigued to see it purely because of the cinematography. I had no clue as to the plot but I had seen gifs on Tumblr and thought that it looked like a beautiful show. I wasn't wrong. But I remember about halfway through the first episode feeling completely 'what is all the fuss about?!' Until the scene where Bran finds Jaime and Cersei and is thrown from the tower.
From then on, I was hooked. To this day, Game of Thrones is still a highlight of the year for me and I am going to miss it severely when it's gone. But there are some characters that I wish were still in it!
Ned Stark.
Is anyone surprised by this? I think everyone misses Ned. I'm already a huge fan of Sean Bean – another big reason why I wanted to watch it – but I really enjoyed Ned's character. He seemed to be the most normal and noble in Westeros and I think that if he was still in the show – he would have a real chance at being the King. But of course, it's Sean Bean so he had to be killed! I remember after watching the episode, I rang my nan and just cried down the phone. She, of course, had no idea what I was talking about but was empathetic nonetheless.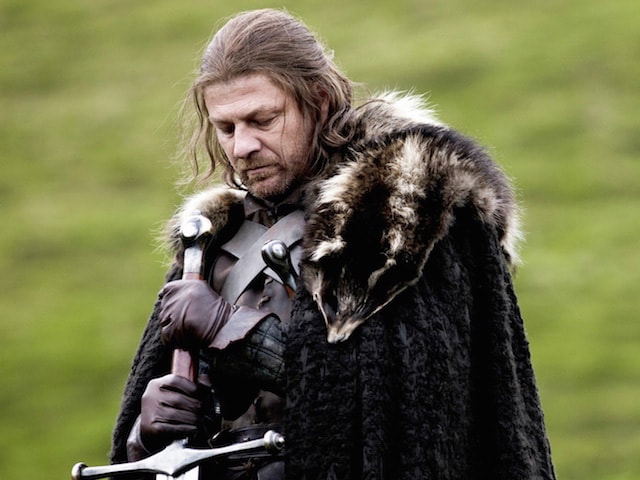 2. Robb Stark.
Another of my boys that I really miss. Not that I'm a huge Stark fan or anything… They are by far my favourite family and unfortunately for me, Robb's death was spoiled for me before I even saw the episode. Anyone that knows me knows that I don't mind spoilers – unless it's Game of Thrones. Then I Hulk-out. My friend came into our Drama lesson, unknowing that I had yet to see the episode and shouted 'I can't believe Robb died!' Unlike some of the characters in this show, I'm not violent but I could have throttled her! I was devastated during the scene but I still think it was one of the best filmed and acted scenes in the show.
3. Joffrey Baratheon.
Yes, yes. This is probably the moment when I've lost you all and you think I'm a crazy person. But I have always had a love for villains, however bad they are. If any of you have read the books, you know that they watered down Joffrey (believe it or not, show-only-ers) but I miss the sheer shock that he used to bring to the show. I couldn't believe some of the things that he would say or do or how much of a little monster he was! I think I was more sad for Cersei during his death – it was brutal.
4. Khal Drogo.
Another death that got ruined for me and another one that still really upset me. Even though I knew that he died, I didn't know how and I thought it was one of the weirdly more brutal ones that they did. Even though Game of Thrones specialises in shock and gore, there was something more unnerving about the silent way in which Daenerys smothered him to save him, in a sense. The way in which you just saw him twitching and heard her sobbing – it really stuck with me.
5. Ramsay Snow.
Yep. You guys definitely think I'm crazy now. I love Iwan Rheon though, so I'm excused? Again – it's just the fact that he was one of the most un-apologetically gruesome villains that made him so interesting to me. Most of the time, writers give their characters some element of softness, which was what I thought they were going to do when he revealed that he was with someone. But then when she died and he just said 'she's good meat, feed her to the hounds'… I was in shock! He's a brilliant villain, if terrifying and he was portrayed amazingly.
So there you have it! Who do you guys miss and why?
I haven't seen the new episode (the one that was on last night) so please don't tell me any spoilers or I will literally cry! Make sure you follow my blog and sign up for email updates so that you can see my future posts – my next one is a Taylor Swift style steal so be sure to stay tuned for that.
Morgie out.
P.S. Did you see my previous post? I got my new birchbox for August and reviewed it. Check it out!
P.P.S Did you see my Daenerys Targaryen style steal? Have a look!