How are we already at my next Birchbox review? I can't believe how quickly this year is going! I think it's because everyone is so busy at the moment, it's just making the time fly by. I love this edition of the Birchbox as it has a very enlightening motto – work hard, play hard and be kind. I put one of the stickers that Oliver Bonas kindly distributed within the boxes on the back of my phone and it's a reminder to do so throughout the day! So, let's get down to the products.
Polaar IcyMagic Instant Eye Contour Energiser / RRP £22.
This really reminds me of the Garnier eye roller that they used to (possibly still?) do. It's a gel formula that intends to brighten and tone your under eye area to hide dark circles etc. I was really excited about this as my eyes always feel and look really tired but I was disappointed. I didn't feel like it did anything whereas the Garnier one gave me an instant reaction. This is definitely not worth the price!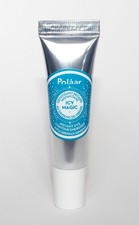 2. Dr. PawPaw Original Clear Balm / RRP £6.95
This claims to be a 'multi-tasker' and says that you can use it as a lip balm or a moisturiser or to smooth split ends or to smooth sunburn. It has fermented pawpaw which is has natural healing agents within that hydrate. I really liked this but I couldn't actually use it as anything other than a lip balm. It was so tightly packed within the packaging that I could barely get enough out to use on my lips. Very nice, though!
3. Manna Kadar Fantasy 3-in-1 Blush, Highlighter and Eyeshadow / RRP £15.
This was the one that I was most excited for but also was the most disappointed in. Birchbox advertised this in the previous box as being something really exciting as it was ~full size~ but honestly? It was such a let down. I tried to swatch it but it was so lacking in pigmentation that you could barely see it. I think the fact that it claims to be 3-in-1 is laughable, too, as you can use blushes as eyeshadows anyway. It's a real let down. 0/10.
4. Arrow BOOST Colour Enhancing Lip Balm / RRP £11.
From my least favourite to my favourite. I was so excited when I saw this as I have heard about these colour enhancing lip products but I've never had the chance to use one myself. Not only does it smell GORGEOUS, it is so soft on your lips and it made my lips a really pretty colour. It feels weightless seeing as it's just a balm, too, which is amazing. It adjusts to your natural pH which means that everyone will get a different colour payoff.
5. Beauty Protector, Protect & Detangle / RRP £18.50.
I've only just about five minutes before writing this post decided that I like this product. I'm not usually into hair products but I really like this one. The difficulty that I found with it was that it only had visible results when I blow-dried my hair. When I let it dry naturally as I usually do, there was no results. But my hair is sooooooo soft right now, guys. I'm loving life. It's got 10000x more movement, too. My hair normally just sits where it is and doesn't want to move but it's moving around like Rapunzel's right now. Not sure if it's worth the steep price, though!
There you have it! If you want to see my previous Birchboxes then please click here. Also, I know I was due to post the beginning of this weekend but I've come down with the lurgie. I'm off to bed the moment this is posted 🙁 womp womp womp. But! I am considering doing my Birchbox unboxings in a video as I feel like you guys aren't getting the true scope of what the products are like with me just writing about it. Let me know what you think in the comments!
Lots of love,
Morgie out.
P.S. Did you see my last post? It was all about Game of Thrones 1.1.
P.P.S Check out my schedule to see what is coming up next!