Hey guys! This is another special post in Blogmas – a guest post from none other than my amazing sister. She's been reading every single one of my posts and has been so helpful in my blogging process. I actually take all the photos you see on this blog in her room – it's my little photography studio! So, I'll hand over to her. My mum also wrote a post last week so you can check that out here! 
Hi everyone, 
Thank you, Morgie for asking your biggie to write a guest blog about one of my favourite things… fashion! I absolutely love clothes (triple wardrobe alert!) and enjoy looking at all my favourite high street stores websites to see what to buy next. With Christmas quickly approaching, party season is most definitely here. If you are like me, then a Christmas party is the perfect excuse to buy a new outfit and treat yourself so as I have my work Christmas party coming up, I thought I would share five items (that are £40.00 or under) to add to your festive wardrobe! 
A classic black dress is timeless and super flattering for everyone. I own a lot of black dresses but there is definitely space for one more! I love the simplicity of this dress with just a touch of sparkle along the neckline which is office party appropriate but glamourous too. Like the model, I would wear this with a dash of red lipstick, heels and then add a leather jacket for the chilly evenings. Even better, this dress is currently reduced from £50.00 to £35.00! 
These shoes are my latest purchase; they are simply beautiful! A Christmas party outfit wouldn't be complete without sparkle and these shoes enable you to access that trend in a subtle way without wearing sequins from head to toe. I tried these shoes on in the shop with a pair of leather look skinny black jeans and they definitely gave my outfit an extra special feel.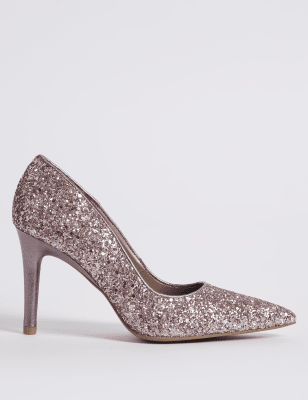 I love the deep teal colour of this pouch which has room for all your night out essentials: phone, debit card and lipstick! These bags are sold in a local independent stockist in my town and are definitely on my Christmas wish list. The simplicity of the design with a cute message such as 'Ooh la la!" or "Talk to the bag!" adds fun to your outfit whilst the  simple colour palette means that these pouches will complement whatever you are wearing.  
Having mistakenly purchased this perfume when trying to buy the Poudree version last year, I was not disappointed. This perfume, which is a delicate mix of musk, amber and white flowers,  is an elegant and easy to wear fragrance that will last all night long.  
I love leather (faux only!) skirts at the moment. They are so versatile and can be dressed up with a cami or dressed down with a chunky knit. So far, I have an a-line black leather skirt and a bottle green one but there is definitely space for one more. I think this skirt would look lovely with a thin long sleeve roll neck tucked in for an elegant look that's cold weather proof too. 
Well, there we go! I hope you enjoyed my five picks for Christmas party success. Thank you again, Morgie for asking me to write a guest blog. 
Have a lovely Christmas. 
Big sister out. 
| TWITTER | INSTAGRAM | PINTEREST | BLOGLOVIN |
Business/PR enquiries: morgiereacts@gmail.com (if you are a brand and are interested in working with me or if you would like me to edit photos for you then please contact me by this email or by Twitter.)
*no affiliate links are included in this post. All opinions are entirely my sister's own. Featured image belongs to Topshop and all embedded images belong to the appropriate links.