Hey guys! How are we already at the end of January? In a way, it seems like a long time since Christmas and in others, not at all. But I know there has been a lot of new releases this month that have been super exciting (and some controversial!) so I thought I would do a summary. I'm thinking of doing this as a monthly series and you guys can make the decisions on whether you buy them or not. Some of these may not be entirely new but new to the UK sites that I've included. There will be both drugstore (although, there wasn't much 🙁 ) and high end in this line up.
Let's get down to it!
LIPSTICKS!
Lime Crime Plushies Liquid Lipstick, £15 for 3.5ml at Cult Beauty. Lime Crime is a brand that I am really interested in trying and I will in the future, for certain! But for a high end lipstick, this isn't a bad price at all. They come in 13 different shades, they claim to be touch-proof and all day comfortable wear.
Anastasia Beverly Hills Mini Matte Lipstick Set, £22 at Cult Beauty. I always think that ABH products are overpriced, even though they are good quality but when you break this down, the individual lipsticks (you get 4 in the set) are £5.50 each which is very reasonable. They're minis, though, obviously so they're only 1.3g. They claim to have an ultra matte finish and they're all nude shades.
EYESHADOW PALETTES!
Becca Ocean Jewels Eye Palette, £32 for 14g of product. Again, I think Becca is really overpriced. This palette has 7 shades, 4 shimmery and 3 matte shades which makes it about £4.50 per shade. Each shade, too, is about 2g of product. They claim to have rich colour pay off – I've never tried Becca products before but this palette is beautiful. You can get this at Cult Beauty.
Nyx Cosmetics Love You So Mochi Eyeshadow Palette, £18 for 13.3g. Is it just me or is Nyx creeping a little more into high-end prices? The highlighter partner to this was £17 for 3 shades of highlighter which is quite pricey! I saw this palette on RawbeautyKirsty and it looks so interesting. It's really soft and bouncy so I'm tempted to buy it myself. There's 10 shades in the palette (you can get two different versions) which makes it £1.80 per shade. Which isn't bad but the depth of the shade is 0.7g which is tiny. You can get this from Boots.
Storybook Cosmetics Charlie and the Chocolate Factory Eyeshadow Palette, £45. There's no information about the sizes of the shades so I can't give that to you but there are 12 shades all inspired by the characters from the beloved book. I think it's such a cute and interesting idea! You can get this from Beauty Bay.
FOUNDATION!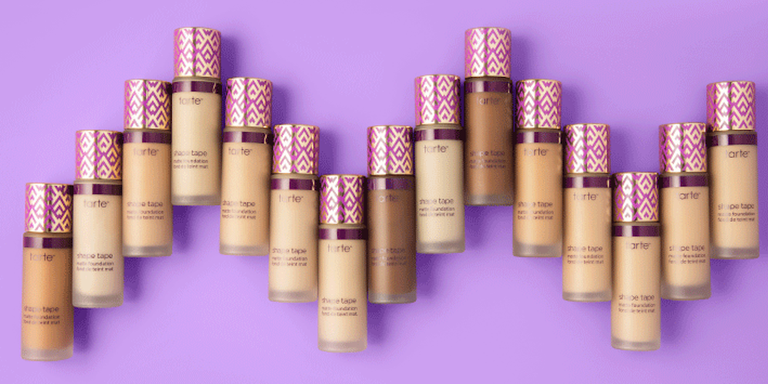 Too Faced Born This Way Foundation, £29 for 30ml of product. This is by no means a new product, it's been around for so long. But it's only just come to Cult Beauty, giving us UK lot another place where we can find Too Faced products. I'm really interested to try this foundation, it claims to be medium to full coverage and oil free. I know you're probably thinking aren't you going to say it's a lot of money? And yes, you're right; it is. But I never mind spending more money on skin products if I get along well with them – especially as I have sensitive skin. I see looking after your skin the same as looking part of every aspect of your health. It comes in 24 different shades which is good!
Tarte Shape Tape Foundation, £35. Everyone and their mother knows about the controversy this foundation caused so I won't go into it and regurgitate the information but nobody can deny that this has made a storm within the makeup industry. It comes in both matte and dewy finishes and is full coverage – a foundation dupe of the famous Shape Tape concealer.
Makeup Revolution Conceal & Define Concealer, £4. If you want to see my review of this concealer then click here!
So, there you have it! I know there's not many drugstore products on here so if you guys have anything that you know I've missed then please let me know in the comments below! Also let me know if you would be interested in seeing this sort of post again in February.
Morgie out.
Business/PR enquiries: morgiereacts@gmail.com (if you are a brand and are interested in working with me or if you would like me to edit photos for you then please contact me by this email or by Twitter.)