Hey guys! It's been a while since I've done an outfit post but I actually have a lot of them coming up this month so keep an eye out for that! Valentines is the absolutely perfect time to be as extra as you can – if that's what you're into, anyway. Dependent on what you're doing with whoever you're choosing to spend your time with (on the actual Valentines day, I have a post coming about how to be happy and single so keep an eye out for that!), you'll want to look fabulous. Even if you're just having Netflix and pizza; any excuse is perfect for the outfits below.
Let's get down to it!
Disclaimer: these are all from Boohoo because they had the best Valentines options that I could find straight away and they're also having a 70% off sale at the moment (I'm writing this the slightest bit in advance so prices may have changed – but they will hopefully have only gone down even more!) but this isn't sponsored by them at all. (But Boohoo, please hit me up if you're interested.)
Okay, seriously.
Is this or is this not the most perfect Valentine's dress?! I love her whole ensemble and the way she paired it with a bold red lip – it only accentuates the gorgeous colour all the more. This is perfect for a dinner date as it blends together formal/casual. It looks effortless yet glamorous.
The strapless nature of the dress automatically draws attention  to your decolletage which automatically gives you that touch of glamour that we all strive for. The colour is also a muted red which is perfect as it doesn't look garish. I really enjoy the drop hem sleeves as I think it adds a little something something to the entire outfit and just gives it such a beautiful detail. The slouch effect of them also adds to the effortlessness of it.
Plus, for £13, you seriously can't go wrong.
I am literally obsessed with jumpsuits at the moment. I really want one but the struggle is real –  I'm 5'6 but my legs are really little which means that things like this are absolutely drowning me. But I want one so bad. If I was going on a Valentine's date and I had the perfect pair of heels, this would be the perfect outfit for me. I think jumpsuits just elongate and accentuate everyone's forms so nicely. They make you look like a model without barely trying. Especially with the loose waves she has going. It doesn't look like the model is wearing heels so you could wear this with flats, too, if you're a taller gal.
This also has the gorgeous red colour as the above. You can't have Valentine's without red – although I do have some different colour options coming up below – but Valentines and love and dates just automatically make me think of the colour red.
Thee frill detail and one shoulder also makes this a dynamic jumpsuit with more to it than meets the eye.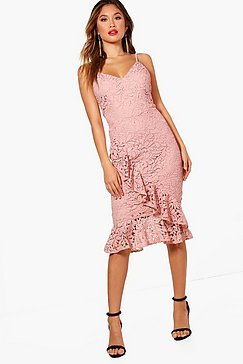 If you're not into the red options above then have no fear – we have a pink alternative for you here. This also does come in red and black, however. Black is definitely another colour you can wear on a date. I love this dress. The shape, the pattern, the frill across the legs – I think it's just so beautiful. It reminds me of spring with the lighter, almost pastel colour of the dress and it's getting me really excited for when we start to enter into the spring months again. I could definitely see you being able to wear this at a wedding.
However, while we're thinking about Valentines, this is a perfect date dress – no matter what you're doing. If you're not doing a dinner date, you can dress this down by wearing some flats and a cosy cardigan over the top. Alternatively, you could leave it as is and look about ready to step onto set. It's more expensive than the other options but I think it's worth it as it looks really high quality.
I feel like this dress is the first dress' more conservative sister. Not that there's anything wrong with that – I think this is something that I would go for. Especially in the fact that it's February and it's freezing.
The cold shoulder still gives the same effect as the first dress while giving you some extra cover and warmth with the longer skirt and the longer sleeves. The frill detail also comes together to make sure that this outfit is anything other than plain.
This dress is also really fitted which will accentuate your curves in the very best way. If you make sure that you're wearing a strapless bra, too, it will really help to give you some amazing shape. I think because the dress goes down over the knee, it would be best worn with some heels as the model is doing just to give it some lift and ensure that it doesn't look like the awkward inbetween – like a maxi dress that's been left in the wash for too long or something like that.
I  think this is my favourite of all of the options – I really, really like this dress. I think it is such an interesting style and one that is very different from the previous ones. You know what everyone thinks about when it comes to Valentines aside from love hearts and teddy bears? Flowers. Floral is such a beautiful option as it easily adds a sense of femininity to any outfit and I love these big flowers that overtake the dress. It almost hides up the fact that this is a black dress. I think it adds something extra to the shape, too.
The lace up front details really reminds me of medieval type outfits, too? Be a Queen on your Valentines date! I really like the fluted sleeve, too. It reminds me of summer again but it will be really useful for if it's a bit windy – if you're in the UK, there's no if about it.
Again, it's a longer dress so probably best paired with some heels. Just make sure your date is prepared to carry you home after.
So there you have it! I really enjoyed coming up with these outfits and I can't believe how cheap they are. I have my eye on all of them so we'll see. I think Boohoo is such good quality for the prices they do. If you need some help with how to do your makeup then check my previous posts: I have a simple makeup look and a dramatic one. There's another one coming on the 12th, which honestly… I have no idea what it's going to be like yet as I'm going to recreate one from one of my favourite beauty gurus. But I haven't picked who yet! If you have any ideas, please let me know in the comments below.
Morgie out.
Business/PR enquiries: morgiereacts@gmail.com (if you are a brand and are interested in working with me or if you would like me to edit photos for you then please contact me by this email or by Twitter.)