Hey guys! How are you all? How have your weeks been? Are you excited for Christmas and therefore Blogmas? I've been absent due to some family trouble and also the fact that I've been applying for jobs again. There's one that I've got lined up that I'm excited for so please pray for me about that one! But how is this relevant to vintage fashion, I hear you ask? Well, the lady that I'm in contact with concerning this job is a vintage icon fashionista.
Seriously, every time I see her – she looks so well put together. Victory curls, vintage tea dresses and vintage heels to die for. She's so pretty and is absolute style goals and is also my inspiration for this post! I'm going to show you guys what is currently around so that you can help bring back 'vintage' fashion!
Camel Double Breasted Maxi Coat, New Look, £54.99
I am absolutely obsessed with these coats. I  think they automatically make you look all the more put together the moment you put them on and add a little je ne sais quoi to your outfit. It's also absolutely perfect for a vintage look as it adds that sense of vintage just from the colour and cut of the coat. You could either pair this with a dress similar to the one below or you could use it to make your current, perahps more modern outfit look more vintage. No matter what, you'll be catching looks off people around you – what's even better is that because it's double breasted, you'll be super cosy while looking flawless, too!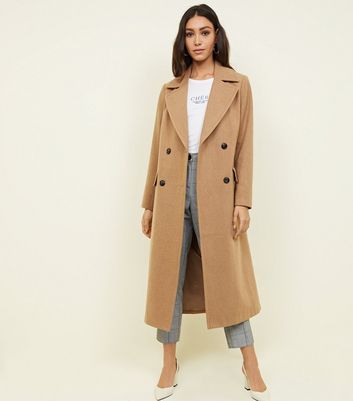 Rust Spot Print Midi Tea Dress, New Look, £27.99
I mentioned earlier that one of the main things I think about when I think about vintage fashion is tea dresses. This gorgeous little number from New Look (this isn't sponsored by New look, by the way) mixes vintage with modern. The spot print on rich red fabric and the tea dress style automatically lends it to be a vintage piece – but with the cheeky split up the leg, it gives you more room to play with the style and cut of the dress. If you're not too keen on a longer dress then you can do what the model did and pair it with some heels (we have some below!) to elongate your legs.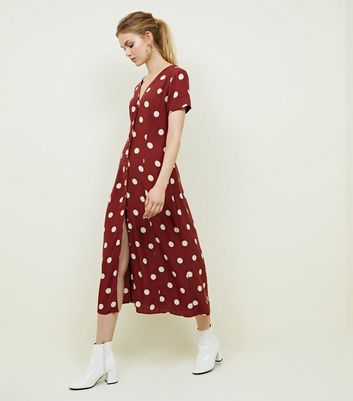 Brown Geometric Print Bowler Bag, New Look, £22.99 
Is this or is this not the most beautiful bag you've ever seen? I've never been much of a bag person but I've fallen in love with this the moment that I saw it. Even though it doesn't go with the above dress – although pattern on pattern, you do you, I don't personally mind it at all – the colour and tones of it make me think of vintage straight away. The geometric pattern gives it a greater depth and detail while looking expensive at the same time. I can't get over the price. For New Look handbags, it's insane. (And going straight in my basket.)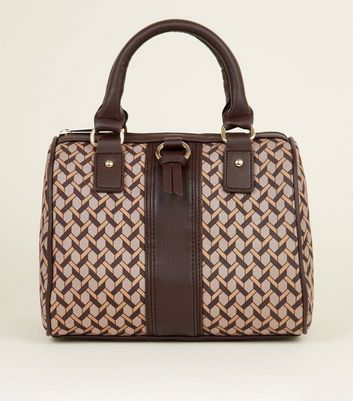 Mustard Low-Cut Uppers Mary Jane Heels Vintage Pumps, FSJshoes, $69.99 
I legit need someone to come and mop up my drool from how much I love these shoes! I love anything mustard yellow so my eyes were immediately drawn to these. They are so stunning and will add a pop of colour to whatever outfit you're wearing. If you were to pair these with the red tea dress from earlier, they would be perfect for giving you a little bit of lift and making you look so colourful, you'll burst through the dreary winter backdrop that we have at the moment. I am obsessed with the shape of them, the colour, the design. They are so gorgeous and vital for any vintage look.
So, there you have it! I missed doing style steals/fashion posts so I will definitely be doing more of these in the future – I just need to get more confident to actually be able to show off these clothes myself! Goal for 2019 perhaps? Do you guys like vintage fashion? Let me know in the comments!
Morgie out. x
Business/PR enquiries: morgiereacts@gmail.com (if you are a brand and are interested in working with me or if you would like me to edit photos for you then please contact me by this email or by Twitter.)
*this post is sponsored by FSJshoes. I will not write posts for any brands that I do not personally like so you can always trust that my opinions are 100% my own – they are seriously amazing and I'm so grateful they got in contact with me!